Summary
On January 27, 2017, President Trump signed an executive order that banned travel to the United States for 90 days from seven predominantly Muslim countries–Iran, Iraq, Libya, Somalia, Sudan, Syria, and Yemen–and suspended the resettlement of all Syrian refugees. The order sparked protests around the country at airports and immigrant rights, refugee resettlement, and civil liberties organizations undertook several legal challenges to the order on the grounds that it constituted religious discrimination. The suits against the travel bans resulted in court injunctions temporarily blocking the order and groups in opposition to the ban also blocked a second iteration of the executive order. Nevertheless, on June 26, 2018, the Supreme Court, in a 5-4 opinion, ultimately allowed a third version of the executive order to go into force, which expanded the list of barred travelers to include nationals from Venezuela (limited to government officials) and North Korea. In 2020, the Trump administration expanded visa restrictions on six more countries–Eritrea, Kyrgyzstan, Myanmar, Nigeria, Sudan and Tanzania–citing screening and national security concerns in those countries. Nationals of thirteen countries are currently subject to various travel restrictions.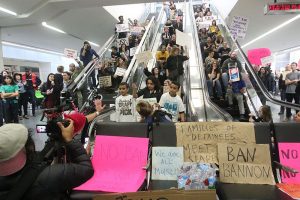 Source
Presidential Proclamation Enhancing Vetting Capabilities and Processes for Detecting Attempted Entry Into the United States by Terrorists or Other Public-Safety Threats
Issued on: September 24, 2017
. . . . As President, I must act to protect the security and interests of the United States and its people. I am committed to our ongoing efforts to engage those countries willing to cooperate, improve information-sharing and identity-management protocols and procedures, and address both terrorism-related and public-safety risks. Some of the countries with remaining inadequacies face significant challenges. Others have made strides to improve their protocols and procedures, and I commend them for these efforts. But until they satisfactorily address the identified inadequacies, I have determined, on the basis of recommendations from the Secretary of Homeland Security and other members of my Cabinet, to impose certain conditional restrictions and limitations, as set forth more fully below, on entry into the United States of nationals of the countries identified in section 2 of this proclamation.
NOW, THEREFORE, I, DONALD J. TRUMP, by the authority vested in me by the Constitution and the laws of the United States of America, including sections 212(f) and 215(a) of the Immigration and Nationality Act (INA), 8 U.S.C. 1182(f) and 1185(a), and section 301 of title 3, United States Code, hereby find that, absent the measures set forth in this proclamation, the immigrant and nonimmigrant entry into the United States of persons described in section 2 of this proclamation would be detrimental to the interests of the United States, and that their entry should be subject to certain restrictions, limitations, and exceptions. I therefore hereby proclaim the following:
Section 1. Policy and Purpose. (a) It is the policy of the United States to protect its citizens from terrorist attacks and other public-safety threats. Screening and vetting protocols and procedures associated with visa adjudications and other immigration processes play a critical role in implementing that policy . . . .
Sec. 2. Suspension of Entry for Nationals of Countries of Identified Concern. The entry into the United States of nationals of the following countries is hereby suspended and limited, as follows, subject to categorical exceptions and case by-case waivers . . . . [Chad, Iran, Libya, North Korea, Syria, Venezuela, Yemen, Somalia]
IN WITNESS WHEREOF, I have hereunto set my hand this twenty-fourth day of September, in the year of our Lord two thousand seventeen, and of the Independence of the United States of America the two hundred and forty-second.
DONALD J. TRUMP